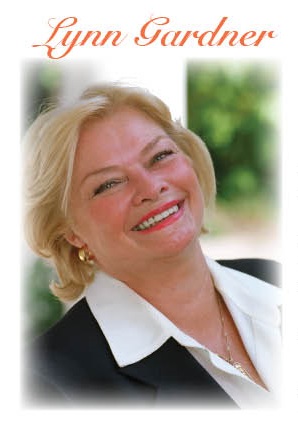 Formerly Seen On — Oprah Winfrey, Joan Rivers, Hour Magazine
Beyond Psychic.....
Intuitive Counselor
life changing and situation solving
Cognitive Intuitive Training & Development
Business • Speaker / Seminars / Conferences
Phone Consultations • Media • Private Retreats
E-mail: [email protected] | Phone: 520-749-0291 | Website: LynnGardner.com
---
Lynn is a professional speaker, workshop presenter, evocator of spiritual abilities, human capacities, and transformational change. She was evaluated as an intuitive, medium, and trance channel by Dr. Wm. Roll, Psychical Research Foundation at Duke University.
The events of a near death experience and a "cross over" experience wither her son, the youngest of eight children, during his death transition brought forward a spontaneous opening of paranormal abilities and changed her life direction and career.
Studying extensively with noted behavioral scientist, Dr. Jean Houston, Dr Gay Luce, and others has led her to be a research subject for functioning and use of spiritual paranormal abilities. She has been involved in research for near death experiences and survival consciousness (life after life). Lynn has been an investigator of paranormal happenings and haunted houses for published authors.
Lynn was filmed working with the famous Mitchell Hedges Crystal Skull. In addition to her "guest" appearances on national, regional, and local radio-television shows, she has participated in filmed documentaries.
She leads traveling workshops for small groups on "Journeys of Transformation" to sacred sites for learning about ancient symbols, rituals, architecture, and art. Twenty-one of her group trips have gone to Egypt while other trips have been to Greece, Crete, Bali, Java, Indonesia, England, Israel, Jordon, Belize, Guatemala, Mexico, and Morocco.
In Tucson, AZ at Camelot, a mini ranch up high surrounded by mountain ranges * desert fresh air * awesome cactus species & birds * Crystal clear daytime blue skies * Night time sapphire blue skies exploding with stars and planets * Personal Retreats * Training * Group workshops